The Dodgers once again have one of the best pitching staffs in the major leagues. That's nothing surprising; the last time they allowed more than four runs per game was back in 2010, when they finished fourth in the NL West. This season, they've been better than ever, allowing just 3.14 runs per game through nearly a third of the season. Their park- and league-adjusted ERA is 30% under the league average, easily the best in the majors. And they've accomplished this despite missing Clayton Kershaw, Andrew Heaney, and Blake Treinen for large chunks of the season. The man leading the pitching staff in WAR through the first two months of the season isn't who you'd expect either: Tyler Anderson.
In an offseason headlined by Freddie Freeman, Anderson was an under-the-radar acquisition. Brought in to provide some depth to their pitching staff, the aforementioned injuries to Kershaw and Heaney thrust him into a key role in the Dodgers' starting rotation. And outside of a seven-run blowup against the Phillies on May 12, he's been absolutely dominant, allowing two runs or fewer in all of his other appearances and currently on a 20-inning scoreless streak.
Prior to this year, Anderson had put up a 4.62 ERA and a 4.43 FIP across more than 600 innings in six seasons. Both of those marks were a bit inflated, since he started out his career with the Rockies; his park- and league-adjusted ERA and FIP sat a hair above league average at 101 and 102, respectively. That sort of production was what the Dodgers were probably expecting from him when they brought him in without a clear spot in the rotation. His first two outings came out of the bullpen in a piggyback role paired with Tony Gonsolin, but when Heaney went down with a shoulder injury, he was inserted into the rotation and hasn't looked back.
Anderson has been pitching better than ever, even including that one bad outing against the Phillies, posting career bests in ERA, FIP, xFIP, and strikeout and walk rates. The biggest difference maker for him has been one single pitch: his changeup. He's always possessed a good one, but it's been leaps and bounds better this year, and it starts with his pitch mix.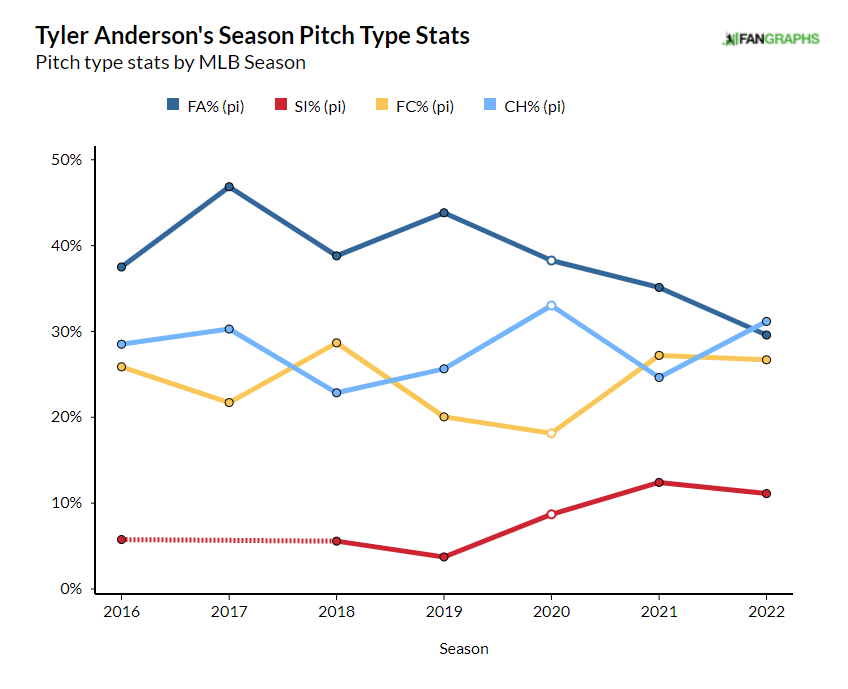 He's throwing his changeup 31.2% of the time this season, though that's not the highest rate of his career; that came in 2020 when he threw it 33% of the time while with the Giants. More importantly, he's reduced the usage of his four-seam fastball to just 30%, making his changeup the featured pitch in his repertoire.
Beyond just throwing it more often, the shape and characteristics of his changeup have improved greatly as well. He credits the change (no pun intended) to an older grip he's gone back to using this year. The difference it's made is stark: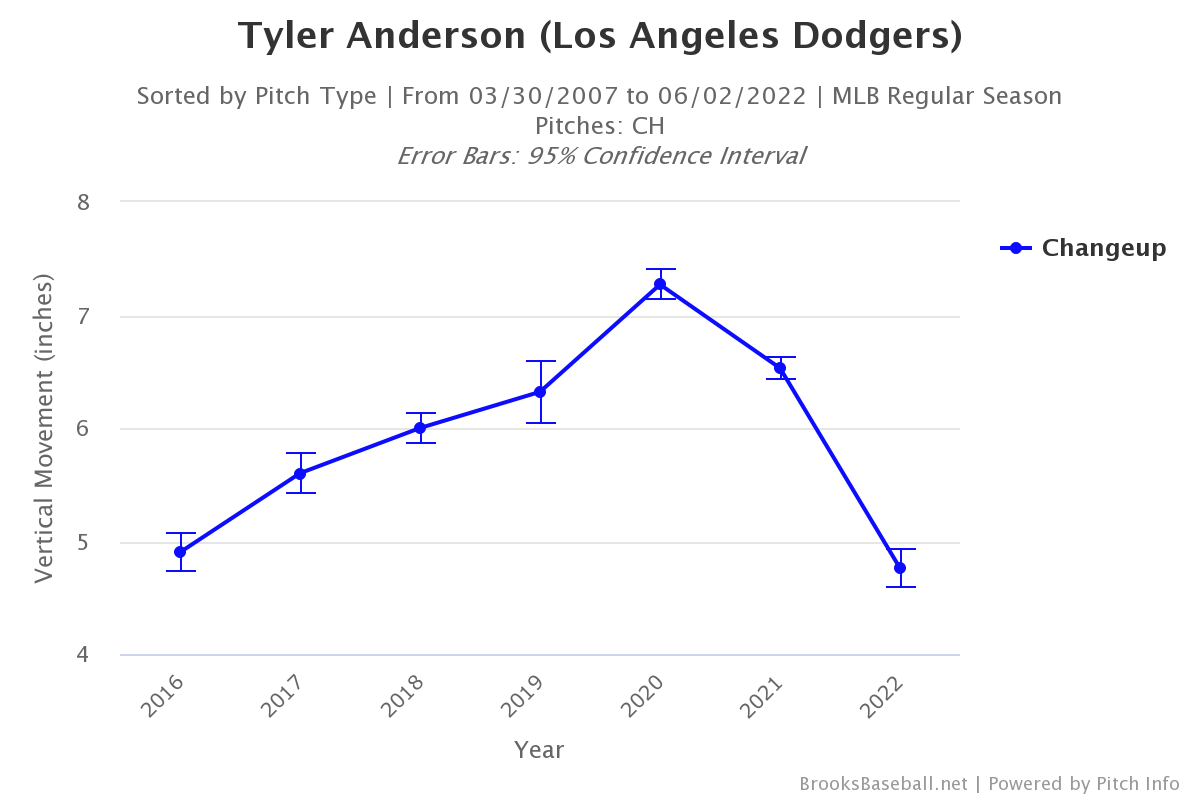 He's added more than five inches of raw vertical break to the pitch, which is dropping more than it has at any point in his career. While the additional vertical movement is the most noticeable difference, a number of other characteristics have changed, too:
Tyler Anderson, Changeup Characteristics
| year | Velocity | FB-CH Differential | V-Mov | H.Mov | Active Spin | Spin-Axis | Spin Deviation |
| --- | --- | --- | --- | --- | --- | --- | --- |
| 2021 | 80.9 | 9.7 | 28.2 | 12.9 | 97% | 10:15 | -15 |
| 2022 | 79.2 | 11.0 | 33.8 | 13.5 | 96% | 10:30 | 30 |
| Difference | -1.7 | 1.3 | 5.6 | 0.6 | -1% | 0:15 | 45 |
The pitch is coming in almost two miles per hour slower, which has helped Anderson increase the velocity differential between his fastball and changeup to an elite 11 miles per hour. He's also slightly changed the spin axis of the pitch at release and increased the amount of spin deviation once it crosses the plate.
Here's a changeup from last year:
And here's what it's looked like this year:
All these changes (again, no pun intended) have elevated the pitch's effectiveness. Its whiff rate has gone from 28.7% to 44.9%, the seventh-highest rate for any changeup thrown at least 100 times this year. Even more impressive is that Anderson is inducing a swing on nearly 60% of the changeups he's thrown, the 13th-highest rate in that same sample. Opposing batters can't help but swing at the pitch and simply can't make any sort of consistent contact with it. And when they do put it in play, there's no authority behind it. The expected wOBA on contact off the changeup has fallen 80 points to .259, the seventh-best mark for a changeup, and just 16.7% of those put in play have been hard hit. He's allowed only seven hits off the pitch, and just one of them has gone for extra bases.
Previously, Anderson would lean heavily on his four-seam fastball when ahead in counts and with two strikes. This year, he's throwing his changeup more often as an out pitch. You can see the difference in these count charts broken down by pitch type from 2021 and '22: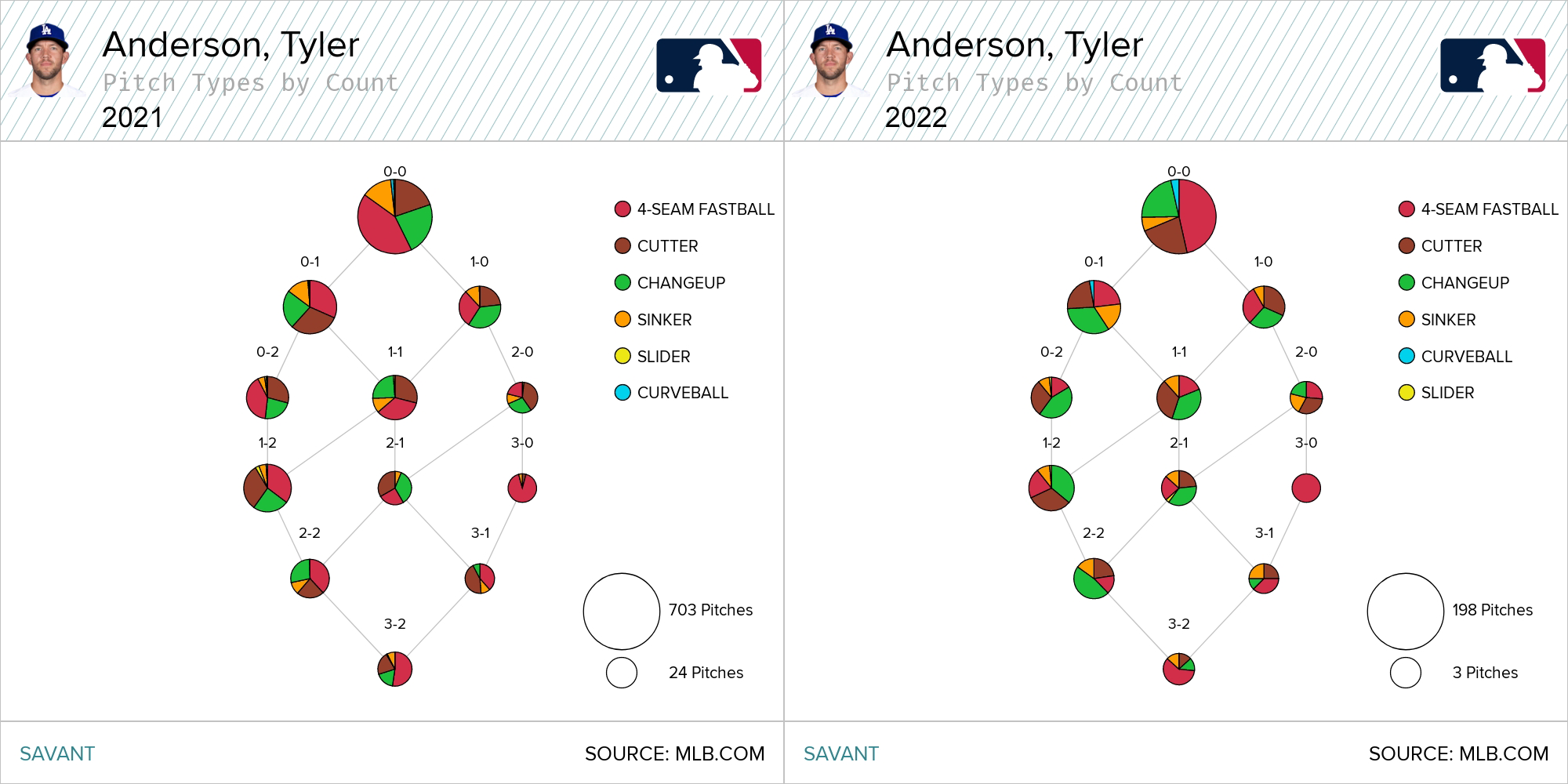 When ahead in the count, Anderson threw his heater around 37% of the time last year. He's essentially flipped that usage with his changeup this season, turning to his fastball 21% of the time and throwing his change 36% of the time when ahead. He's followed that same usage pattern with two strikes, leading to 24 strikeouts in 61 plate appearances decided by his changeup and a career-high 24.2% strikeout rate.
His new grip has also created a spin axis change that's helped the pitch play off the rest of his repertoire better. The initial spin for his four-seamer, cutter, and changeup all center around 11:00 on a clock face. Once the pitch reaches the plate, the two secondary pitches diverge in opposite directions from the fastball in nearly equal amounts.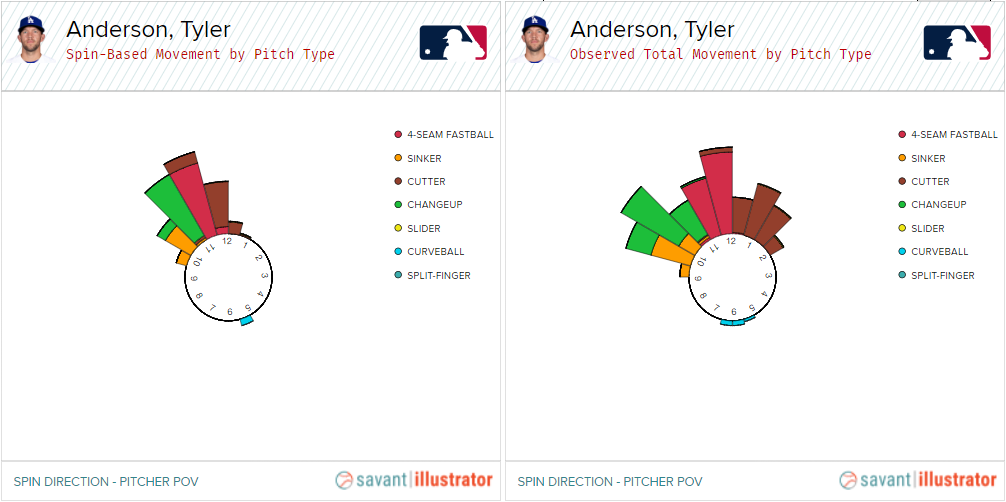 That sort of spin-based deception adds to the effectiveness of both his changeup and cutter and allows him to work them off each other horizontally to each side of the plate.
It's unlikely Anderson will lead the Dodgers' pitching staff in WAR by the end of the season, but they don't need him to be their ace. And once Kershaw and Heaney return from their injuries, Anderson has pitched well enough to deserve a continued spot in the starting five. That's more than they could have asked for when they signed him this offseason.