Cars spun out in shrieking arcs beneath the Calliope Street overpass on Sunday, billowing smoke from their wheel wells as spectators milled about waving handguns and rifles.
Downtown, it was more of the same and then some: When a New Orleans Police Department patrol vehicle crawled into the crowd of another sideshow, this one at St. Roch and St. Claude avenues, two men leaped onto its front hood and began to stomp and cavort. Others kicked the cruiser as it rolled through, lights flashing, according to video footage that went viral on social media.
Police say organized chaos broke out at four intersections across the city on Sunday, in perilous scenes that left residents outraged and city leaders pledging an aggressive response. The image that emerged for some was of a city that had lost control of its streets.
There were no arrests as of late Monday, but police did release pictures of two men captured on video jumping on the police cruiser. They also released information about four vehicles allegedly involved in the stunts: A silver 2012 Chevrolet Camero; a red 2013 Camero; a white 2017 Ford Mustang and a red 2015 Dodge Challenger. Two were registered in New Orleans, one in Kenner and one in Baker, La.
At an afternoon news conference, NOPD Superintendent Shaun Ferguson said it appeared that at least some of the events were organized from outside New Orleans and drew people from other states.
Ferguson said he would press to book drivers, spectators and organizers regardless of where they came from, and that he would begin to urge an elevated felony charge — aggravated obstruction of a highway of commerce — that carries a 15-year maximum prison sentence .
"There's no way in hell we should allow anyone to come to our city and rule our city the way they (did) yesterday," Ferguson said.
Can't see the video below? Click here.
Such stunt shows are nothing new to New Orleans or other urban centers in America, having grown into a social media-fueled craze that has left cities groping for answers. What made Sunday's incidents different, Ferguson said, was the "total disrespect" bosses showed to police.
Ferguson said Mayor LaToya Cantrell was out of town Monday, but in a statement, Cantrell described the stunt shows as "reckless criminal behavior."
"These brazen actions have accelerated to a complete disregard and blatant disrespect for law enforcement. This ends now!" the statement read. "My administration stands with the New Orleans Police Department as they seek to increase criminal penalties associated with this type of behavior, and as they relentlessly pursue all perpetrators who place the public at risk."
Much of the footage, including cars screeching donuts and stalling traffic, appeared to be shot at Calliope and Annunciation streets. Other videos that spread revealed "pop-up" sideshows Sunday at Chef Menteur Highway and Downman Road, and at St. Claude and St. Roch avenues. Police described another Sunday at Orleans Avenue and North Galvez Street in Treme.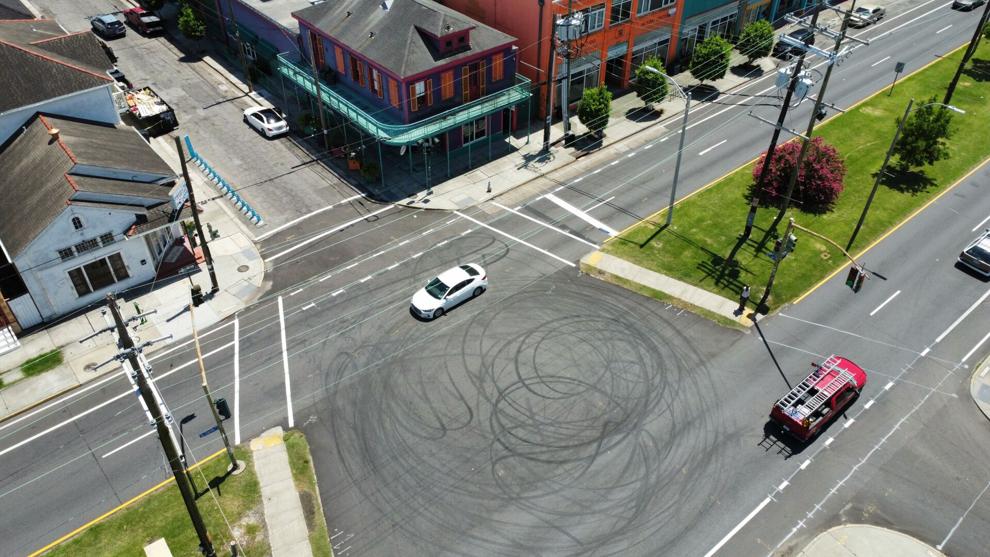 Noe Regules, who works at Laksa NOLA in the St. Roch Market, said people started to gather late in the afternoon for an event he said was clearly planned.
Regules said drivers parked on the median and sat on their hoods to watch the car stunts that soon ensued, while others stopped traffic to clear the intersection. The group grew into a crowd, and the show went on for a "good 30 minutes" before the NOPD got to the scene, he said.
Officers who arrived were forced back inside their cruiser, he said. Then members of the crowd started jumping on the hood, hitting the windows and throwing bottles.
Can't see the video below? Click here.
Regules said he was stunned to see cars spinning out so close to people standing in the street. "Luckily they didn't get hurt, but that's still shocking to see," he said.
A video from another part of town showed a man riding the hood of a spinning car, then getting thrown and slammed aside.
Ferguson said he is working with the Louisiana State Police on tactics to deal with these events. He also plans to push state legislation to make it easier to sixteen vehicles from participants.
"We want to know who are the planners, who are the organizers," Ferguson said. "Not just the drivers, not just the spectators. Everyone identified will be held accountable."
As news reports hit the internet Monday, at least six Instagram accounts associated with car stunt groups listed on a flyer for Sunday's event turned private, were edited or deleted. One page, @streetfleetbr, had advertised sideshow meetups dating back to October 2021 at various locations, including Lafayette, Baton Rouge and New Orleans.
Another page, @gtsboys4l, encouraged members of the "GTSBOYS" club to meet at locations around New Orleans. That account's earliest video was posted September 2020 and features men hanging out of the window of a car doing donuts.
"I'm asking everyone to get as angry as we are," Darlene Cusanza, president and CEO of Crimestoppers Greater New Orleans, said Monday.
Some cities, like Baton Rouge, have recently passed laws to crack down on street racing by penalizing spectators or organizers.
After a stunt show erupted April 30 outside a Garth Brooks concert at Tiger Stadium, police assigned task force officers to monitor social media for organized events, according to Baton Rouge police spokesperson L'Jean McKneely. The East Baton Rouge Metro Council also raised penalties last year for illegal drag racing and made it easier to impound vehicles.
City Council members Oliver Thomas and Eugene Green said New Orleans must also crack down.
"This isn't Gotham City. The Joker and the Penguin don't rule the streets of this community," said Thomas, who warned of arrests, fines and vehicle seizures for those who participate. "This is a tipping point… If you thought you could do it yesterday, you can't do it anymore."
Green said he has drafted an ordinance that will go before the City Council on Thursday to specifically outlaw street burnout shows.
"Those people who think these are victimless crimes are absolutely wrong," Green said.
.