A new drug has shown remarkable results against rectal cancer in a small-scale study.
Of 12 rectal cancer patients treated with the drug, called dostarlimab, every one saw their tumors disappear without any reported side effects, according to the results of the study, published on June 5 in Tea New England Journal of Medicine.
Even six months after the treatment, all 12 patients showed no evidence of tumors in their rectum via NMR imaging, endoscopic evaluation, digital rectal examination, or biopsy, and no patients have since received chemoradiotherapy or undergone surgery to deal with recurrences, researchers at Memorial Sloan Kettering Cancer Center said.
A study of only 12 patients is very small, however, so larger-scale studies need to be done on the use of this drug to verify its efficacy and safety for use in cancer patients.
Lineberger Comprehensive Cancer Center oncologist Dr. Hanna Sanoff said the results were "cause for great optimism".
"If immunotherapy can be a curative treatment for rectal cancer, eligible patients may no longer have to accept functional compromise in order to be cured," Sanoff wrote in a New England Journal of Medicine editorial.
But she clarified that "very little is known about the duration of time needed to find out whether a clinical complete response to dostarlimab equates to cure."
The specific subset of rectal cancer being treated is caused by a deficiency in something called mismatch repair, or in other words, mutations in genes that are involved in correcting mistakes made when DNA is copied in a cell, causing tumor growth.
Usually, the paper says, chemotherapy and radiation followed by surgical resection of the rectum is the standard treatment for locally advanced rectal cancer. Recently, there has been an increase in the intensity of this type of treatment. While this has improved the survival rate of colorectal cancer patients, with a three-year disease-free survival rate as high as 77 percent, it's a grueling process and can lead to long-term side effects such as neuropathy, infertility, and bowel and sexual dysfunction.
The treatment tested in this paper avoids any of these other health problems. The patients in this study have a specific type of colorectal cancer that is responsive to something called programmed death 1 (PD-1) blockade, a kind of immunotherapy cancer treatment that works by stopping cancer cells from hiding from your immune system.
PD-1 is a protein in immune cells called T cells that normally acts as a type of "off switch" when it binds to another protein called PD-L1, which is located in the cells your immune system shouldn't be destroying, stopping the T cells from attacking other healthy cells in the body. Unfortunately, some cancer cells have large amounts of PD-L1, stopping the body from fighting back.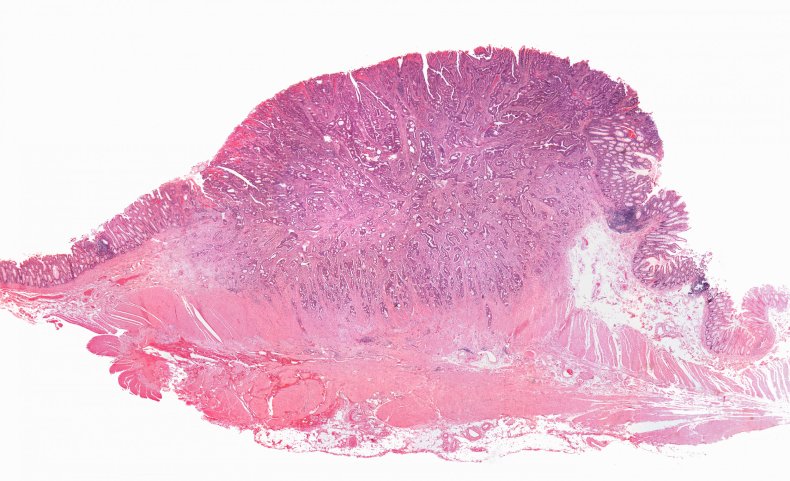 For this treatment, monoclonal antibodies that target either PD-1 or PD-L1, such as dostarlimab, can block the two from binding and boost the body's immune response against cancer cells, in theory breaking down tumors.
According to the paper, dostarlimab was administered to the patients every three weeks for six months.
"Mismatch repair–deficient, locally advanced rectal cancer was highly sensitive to single-agent PD-1 blockade. Longer follow-up is needed to assess the duration of response," the authors wrote in their conclusion.
Dostarlimab was developed by Tesaro, a Massachusetts biotech company that was bought by GlaxoSmithKline for $5.1 billion in 2019.